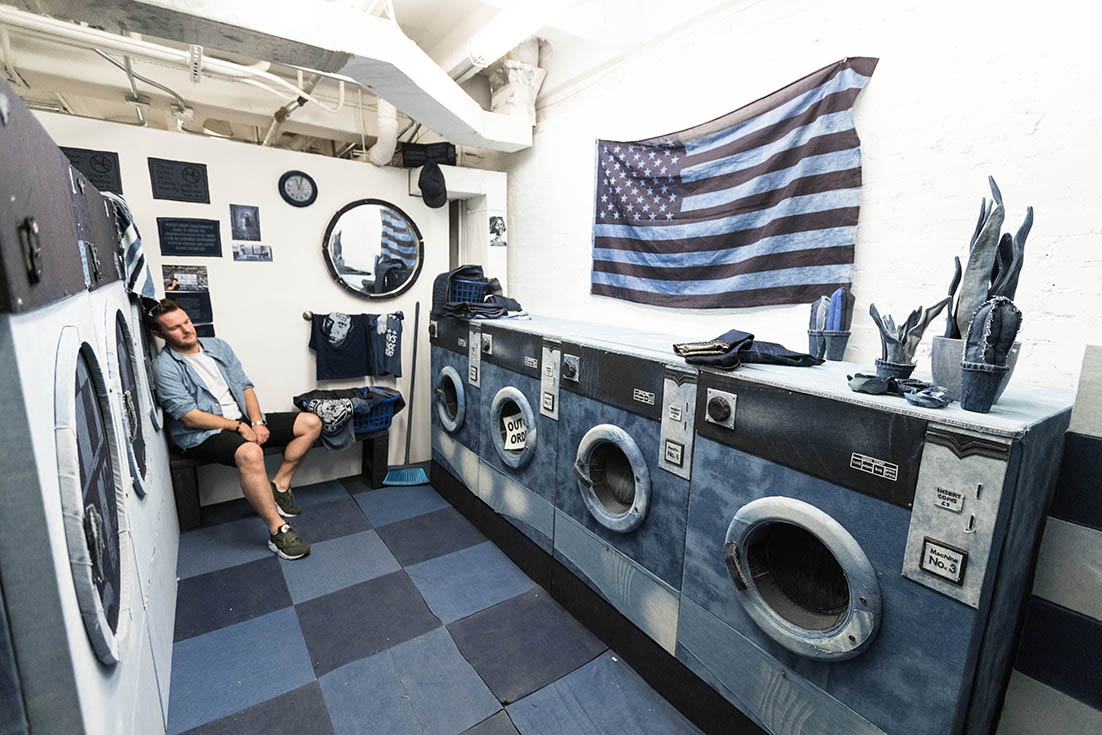 Searching for the Faith and Hope (Soap)
Denim on Denim | 122 x 50 cm
The Gently Revolving Drum Goes Quiet
Denim on Denim | 122 x 50 cm
A Delicate Cycle
Denim on Denim | 122 x 50 cm
Waiting for my Steve McQueens
Denim on Denim | 122 x 50 cm
The re titled Laundry at Miami Basel
The launderette insallation has traveled to numerous venues, including London, France and here in Miami where it was shown at the Juxtapoz Clubhouse during Miami Basel Week 2017. People could walk in and interact with it as everything was life sized.
photo | Lucinda Grange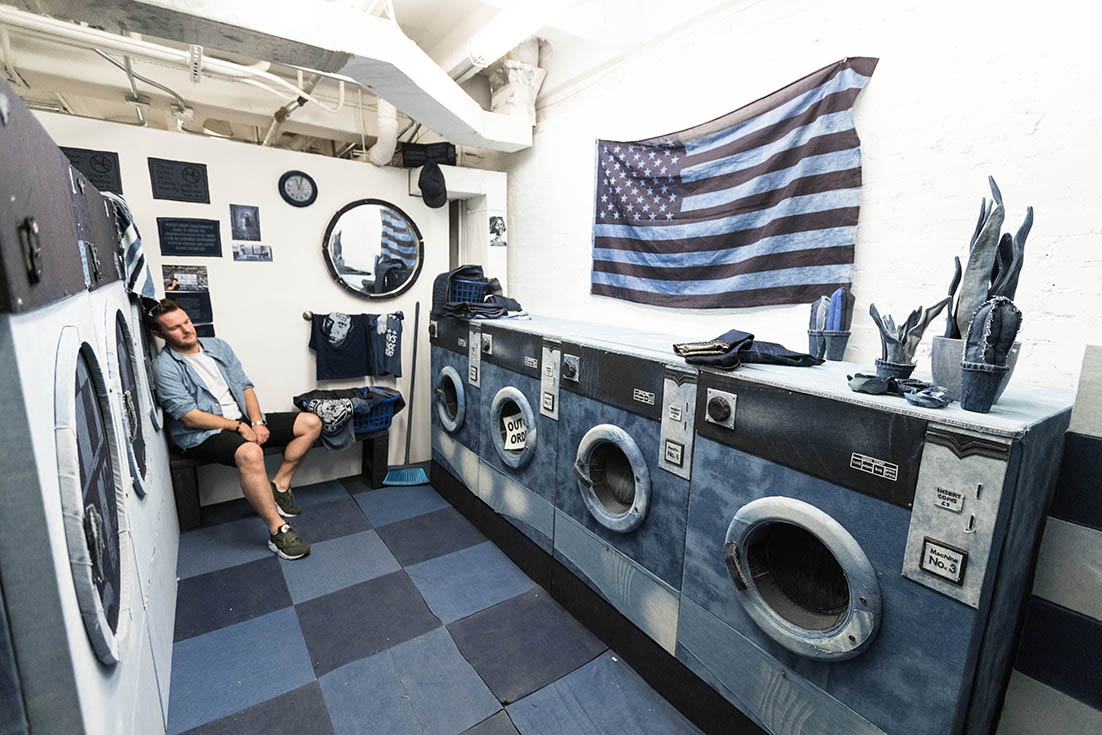 A the Juxtapoz Clubhouse in Miami Ian allowed people to tag and scratch the launderette giving it an authentic feel of a warn down laundromat
photo | Lucinda Grange
My Beautiful Launderette Installation
See for the first time in the gallery the installation complete, this is just a mock up of it. Fully life size, walk in and see.
My Beautiful Launderette, a denim installation
A sneak peak at what will be a full sized life like launderette in the exhibition
The Launderette Installation at the Catto Gallery, London
The launderette install debut in London 2016
Ian Berry may be showing a second separate exhibition to his primary 'Behind Closed Doors', however, they touch on similar themes; The melancholic loneliness, but, in a scene that is also rather beautiful, yet familiar.

It both celebrates and commiserates this place that is not only the heart of the community to many but somewhere that harks back to a different, perhaps simpler time. Even if one doesn't use one, it is still a place that will be missed now they are fading away and closing down.

By the end of the 1970s there were around 12,500 in the country. That number has now slumped to 3,000, 450 here in London. On one shoot Ian went back to one he had only visited on a recce the week before only to discover it boarded up.

While growing up in provincial Huddersfield, on a cul-de-sac the artist grew up with his own washing machine, which was run by his mother of course. For him he always thought of the launderette with Dot Cotton in the British soap, Eastenders. Not that he watched it of course. But if he ever caught it, he would find this place that would be the centre of the community, a meeting place, almost community centre, a place for gossip and eavesdropping. While perhaps not the place for the all out row, like in the Queen Vic, it would host the more contemplative conversations.

The title of the show is borrowed from a film however. Based on the screenplay of Hanif Kureishi, shot in the mid 80's My Beautiful Launderette directed by Stephen Frears captured a mood London at the time, the cultural tensions and the economic change but central to the film was the launderette, one scene depicts a crowd of customers gathering outside, impatient to be let in. Sadly, you cant imagine that today.

The sentimental, nostalgic attachment of occasional users won't count for very much, but for others they still remain invaluable. Along with many other places that are disappearing in the capital (Ian himself did a body of work on the London pub) it is changing the cultural fabric of our urban spaces.

As well as being a practical place, somewhere to clean your clothes a launderette can be appealing, therapeutic with the sound of the gently revolving drum while you wait, even a romantic place or somewhere where someone may get their only conversation.

Ian captures these scenes where a solitary girl sits alone waiting for her washing or drying, away from the busy street and life. Is this one of the last remaining places in which to enjoy a moment's solace?

While denim jeans may have been washed in many launderettes over the years, here they recreate them, capturing a mood with astonishing effect. How he depicts the tiled floors with the light hitting them or the shiny washing machines. Its more amazing to realise it is only denim, no paint, and unlike the laundrette, no bleach used. Just all found jeans.

There is also an installation of a life sized launderette, complete with washing machines and dryers and tiled floor, that is about to close down.


 
Ian has portrayed Launderettes in Holloway Road, Ladbroke Grove and two local to him in East London, in Crisp Street Market and in Bow, the latter two given cockney rhyming slang titles, another part of the rich tapestry fading away.